In an apparent first for PCA arbitration, as well as a first for Africa, the Barotseland National Freedom Alliance has launched an online, electronic Permanent Court of Arbitration submission agreement, in order to facilitate its signing by Barotseland representatives living abroad, in Lusaka, and in other parts of Zambia outside of Barotseland.
The electronic signing of such a petition arguably establishes the consent of Barotse nationals to be bound by the PCA arbitration agreement. More traditional paper-based arbitration agreements are also currently being distributed in Barotseland, and thousands of people have signed the arbitration agreement to date.  
There is still no word on whether President Sata himself will sign the arbitration agreement, which would allow the issue of Barotseland's legal status to be determined peacefully, and on the basis of international law, by a neutral arbitration tribunal based in The Hague. 
In a far less enlightened manner, the Government of Zambia has reportedly brought additional military forces into Barotseland, in an apparent attempt to force Barotse nationals to continue to accept Zambia's violation of the Barotseland Agreement 1964 without protest.
Barotse National Freedom Alliance (BNFA) leader, Hon. Clement Wainyae Sinyinda, has also met the Pope's representative to Zambia, Apostolic Nuncio, Archbishop Julio Murat, on Tuesday, 8 April 2014, to warn him of the serious threats of escalating violence to Barotse nationals.  
It also appears that the Government of Zambia has refused to respond to Barotseland's petition at the African Commission for Human and People's Rights (ACHPR), based in Banjul, aimed at curtailing the continuing human rights abuses in Barotseland by Zambian officials.  
International arbitration would not pre-judge the issue of the legal status of Barotseland, a former British protectorate that willingly became part of Zambia at the time of Zambia's independence on the basis of a treaty that Zambia unilaterally repudiated.  It also poses no risk of encouraging secessionist movements in other States, since Barotseland's claim to independent legal status is treaty-based, unlike those of other independence movements.
Barotse nationals who support the BNFA's offer of arbitration to Zambia may fill out the online form contained on the BNFA's website, which may be reached below.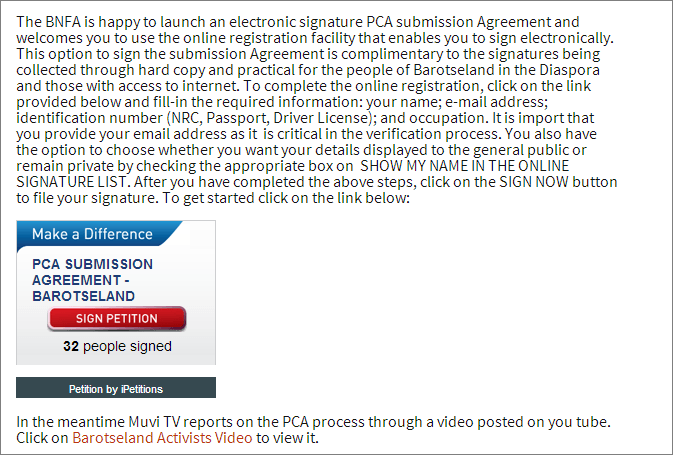 William Kirtley, Sylvana Sinha and Christophe Dugué, who are members of the International Arbitration Attorney Network, are serving as the BNFA's legal counsel.