Arbitraža institucije su pokušali da se prilagode njihovim pravilima arbitraže kako bi bili prikladniji za male tvrdnju arbitražama smanjenjem troškova i vrijeme arbitražnog postupka.
The ICC Arbitražna pravila primjenjuje se od 1 marš 2017 potvrđuju ovaj trend uvođenjem posebnih pravila za potraživanja ispod USD 2 milion. Prema ICC sudu, arbitrations relating to claims below USD 2 million represent a significant 33% of its caseload. This trend incited the ICC Court to develop a cost-efficient mechanism for settling lower value claims.
The new expedited arbitration procedure, tailored for relatively low-value claims, is applicable only to arbitration agreements that were concluded after 1 marš 2017 (članak 30(3)(a) od ICC Pravila). kako god, the parties may agree otherwise and apply the expedited procedure provisions by opting into them by agreement.
The ICC Rules also provide safeguards where despite the relatively small claim, i.e., under USD 2,000,000, the ICC Court may decide that because of the exceptional complexity or politically sensitiveness of the case the expedited procedure provisions will not apply (članak 30(3)(c) od ICC Pravila).
This shorter and simplified procedure is expected to reduce the costs of arbitration mainly by reducing the costs of parties' legal representation, which constitute the bulk of costs for international arbitration. dodatno, the new set of scales for arbitrator's fees that apply to the expedited arbitrations are 20% lower than in ordinary proceedings.
Na primjer, in an arbitration where the amount in dispute is USD 500,000, the administrative expenses of the ICC will amount to approximately USD 15,235, while the arbitrator's fees can vary between approximately USD 7,886 i USD 35,192. In comparison, the arbitrator's fees in ordinary proceedings would be higher, i.e., između USD 9,857 i USD 43,990.
Below is the scale of administrative expenses and arbitrator's fees for the expedited procedure provided by the ICC Court, for illustrative purposes.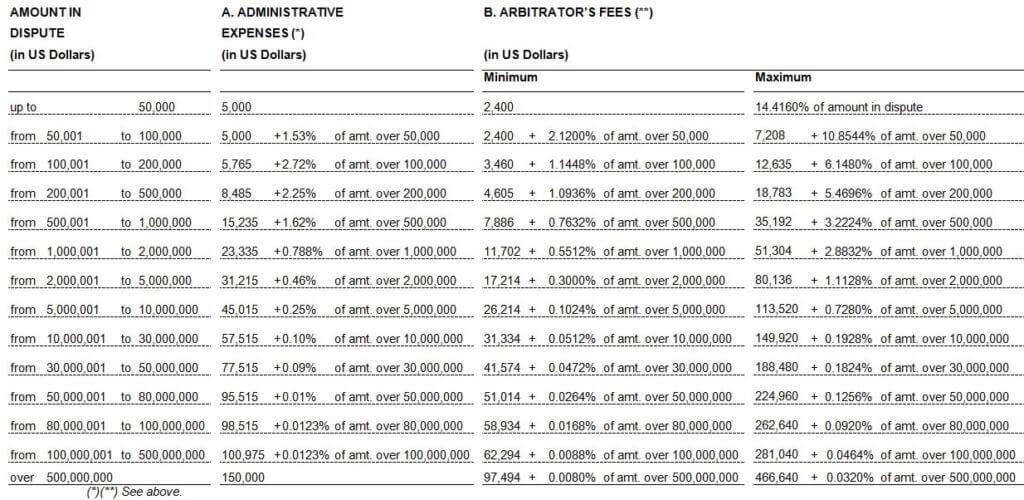 Indicative calculations may also be made with the help of the ICC Cost Calculator, for the ordinary procedure as well as the expedited procedure.
Sve u svemu, the success of the expedited procedure and its scope to provide a more cost-efficient resolution to small claim arbitrations also depends on the parties' lawyers and their willingness to collaborate and take advantage of the simplification of the procedure in order to charge reasonable arbitration legal fees.
Andrian Beregoi, Aceris Zakon LLC