Many hundred more representatives of Barotseland have signed a PCA submission agreement calling for the status of Barotseland to be determined in accordance with the law by a neutral third-party.
President Sata has turned a deaf ear to this request for a rational solution to the Barotseland issue, a long-running legal issue that has festered in Zambia for 50 years.
Barotseland is a former British protectorate which became part of Zambia through the Barotseland Agreement 1964, which was badly violated by the first President of Zambia, Kenneth Kaunda, who attempted to destroy its system of system of governance, its courts, and whose government looted its treasury.  Kenneth Kaunda was first President of Zambia, who clung to power for 27 years, which abruptly ended with the establishment of multiparty democracy in Zambia.
After an initial response by the Zambian government questioning the legal standing of the BNFA to pursue international arbitration, the Zambian government and President Sata have refused to respond to the requests of the people of Barotseland for the peaceful resolution of this matter.
The silence of the Sata administration can only be understood as an admission that the violations of the Barotseland Agreement 1964, and its eventual repudiation by the State, were in violation of international law.
The first batch of new signatures of the PCA arbitration agreement by Barotseland representatives may be found below.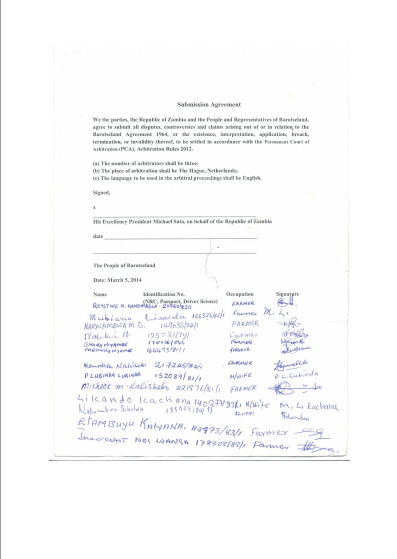 A second new batch, containing hundreds of more signatures has also been made available.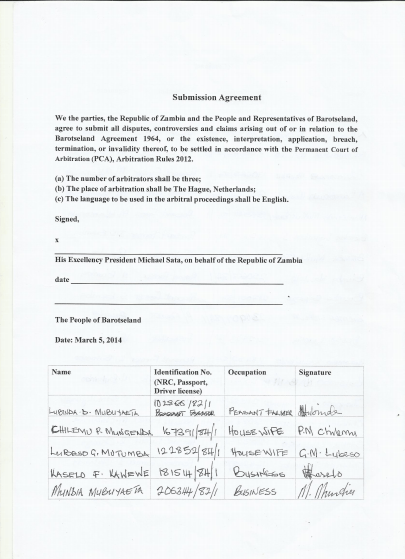 It is a pity that President Sata rejects resolving this matter via arbitration, since this would not prejudge any particular outcome.  It would merely ensure that a neutral arbitration tribunal resolved the manner in a peaceful fashion, which is surely in both Parties' interests.