Our ICC arbitration lawyers are highly-experienced and have an excellent track record of obtaining successful outcomes for their clients in ICC arbitrations and other commercial arbitrations. They have served as ICC arbitration lawyers for dozens of clients of various nationalities, in many different types of disputes, under dozens of different laws and in multiple languages.
While the cost of ICC arbitration can be high, the vast majority of such costs are spent on legal fees, as is the case for domestic litigations. High-quality but cost-effective international arbitration boutiques such as Aceris Law SARL, an IAA Network member, can reduce ICC arbitration costs dramatically. The IAA Network's members also provide ICC arbitration legal representation individually.
The ICC arbitrations in which our lawyers have served range from small ICC arbitrations concerning contractual disputes to large ICC arbitrations with amounts in dispute of hundreds of millions of dollars. The types of dispute are varied, including construction disputes, to disputes in the chemicals, oil & gas, defense, distribution, finance, media, automotive, aviation, logistics, IT, IP, telecommunications, hospitality, infrastructure, pharmaceuticals, renewable energy, shipping, steel and transportation industries.
In addition to serving as ICC arbitration lawyers, the IAA Network's members also regularly serve as arbitrators.
ICC Arbitration Lawyers With Considerable Experience and an Excellent Track Record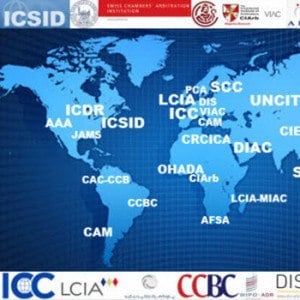 Over the years, our members have established an excellent track record in ICC and other international commercial arbitrations, and our commercial arbitration lawyers have obtained the praise of many clients. Clients call the members of the international arbitration network "great" arbitration lawyers providing "fierce" legal representation for disputes that are capable of resolution via arbitration.
Our ICC and commercial arbitration lawyers are based in Europe, America, Africa, Asia and the Middle East, and they have the capacity to work in many languages.