The Guide to Construction Arbitration is a GAR book edited by Professor Stavros Brekoulakis and David Brynmor Thomas, botuar në shtator 2017. Sipas redaktorëve, Udhëzues për ndërtim Arbitrazhit ka për qëllim të ofrojë informacion praktike për (unë) Mjekët të cilët janë të papërvojë në kontratat ndërkombëtare të ndërtimit dhe zgjidhjen e mosmarrëveshjeve (e.g. në shtëpi avokatët dhe profesionistët e ndërtimit), (ii) lawyers in private practice who are familiar with arbitration, but lack experience in dispute resolution proceedings in construction arbitration will also benefit and (iii) students who study construction arbitration.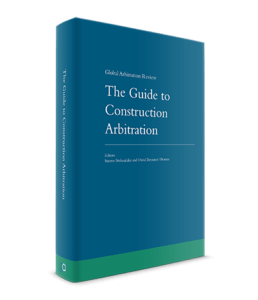 The main focus of The Guide to Construction Arbitration is the resolution, nga arbitrazhi, of disputes arising out of construction projects. It also addresses substantive aspects of international construction contracts. The Guide explains how disputes arise out of a typical construction contract in the first place, and what are the substantive rights, obligations and remedies of the parties to a construction contract. The structure of the book is broadly based on the LLM course on International Construction Contracts and Arbitration that the editors teach at Queen Mary University of London.
Part I examines a wide range of substantive issues in construction contracts, such as The Contract: the Foundation of Construction Projects (Aisha Nader), Parties to a Construction Contract (Scott Stiegler), Bonds and Guarantees (Christopher Harris and Jane Davies Evans), Introduction to the FIDIC Suite of Contracts (Ellis Baker and Anthony Lavers), Allocation of Risk in Construction Contracts (Ellis Baker, Luke Robottom and Anthony Lavers), Contractors' Claims, Remedies and Reliefs (James Bremen and Leith Ben Ammar) and Employers' Claims and Remedies (James Bremen and Mark Grasso).
Part II treats the dispute resolution processes in construction disputes. The aim of this Part is to look into special features of construction arbitration, and the following chapters are included: Suitability of Arbitration Rules for Construction Disputes (David Kiefer and Adrian Cole), Subcontracts and Multiparty Arbitration in Construction Disputes (Stavros Brekoulakis and Ahmed El Far), Interim Relief, including Emergency Arbitration, in Construction Arbitration (Peter Hirst and David Brown), Organisation of the Proceedings in Construction Arbitrations: General Considerations and Special Issues (Tim Chelmick and George Spalton), Documents in Construction Disputes (Bartosz Kruz˙ewski and Robert Moj) and Awards (Roger ter Haar QC, Crispin Winser and Maurice Holmes).
Part III examines a number of topics in international construction arbitration like Construction Disputes in Investment Treaty Arbitration (Erin Miller Rankin, Sami Tannous and Matei Purice), Construction Arbitrations in the Nuclear Sector (Jane Davies Evans), Construction Disputes in the Energy Sector (Mark Beeley), Construction Arbitration and Concession Contracts (Philip Dunham and José Manuel García Represa) and Construction Arbitration and Turnkey Projects (James Doe, David Nitek and Michael Mendelblat).
Part IV of The Guide to Construction Arbitration focuses on jurisdictions with particular interest and a very active construction industry: Construction Arbitration in Australia (Andrew Stephenson and Lindsay Hogan), Turqi (Serdar Paksoy and Simel Sarıalioglu) and The Nuts and Bolts of Construction Arbitration in the MENA: Parimet dhe Praktika (Mohamed S Abdel Wahab).
The Guide to Construction Arbitration can be downloaded on the Global Arbitration Review's website.
Andrian Beregoi, Ligji Aceris