First Investment Treaty Arbitration Against Belarus.
Luke Peterson's Investment Arbitration Reporter has recently published an article on the first reported investment treaty arbitration against Belarus, the last remaining rogue State in Europe.
The USD 175 million arbitration is being launched by William Kirtley and Christophe Dugué of one of the leading Paris-based arbitration boutiques, Dugué & Kirtley, working in tandem with Anna Crevon, a Russian-speaking lawyer with a decade of investment treaty arbitration experience who is Counsel at the law firm Dentons. The three previously worked at Shearman & Sterling together, where they were all, at various times, members of Shearman & Sterling's team, led by Emmanuel Gaillard and Yas Banifatemi, working on the USD 100 billion ECT-based investment treaty arbitrations on behalf of a trio of Yukos shareholders against Russia, which remains the largest reported arbitration in history.
At the same time, Andrew Newcombe's highly-respected Investment Treaty Arbitration website has published a slightly-redacted version of this notice, which is available below.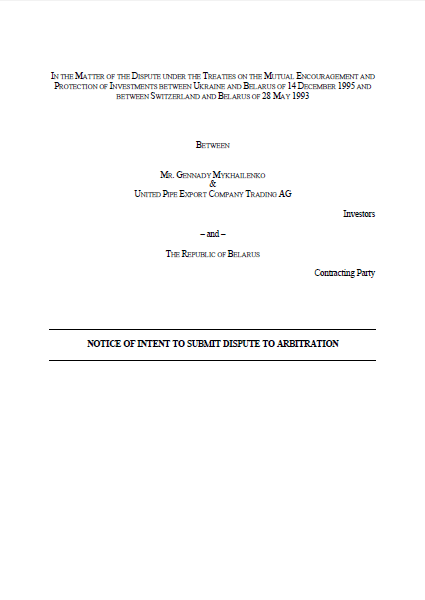 Mr. Peterson's article describes the treaty protections which are being invoked to ground the USD 115 million in pure treaty claims, and include claims of breaches of the fair and equitable treatment provisions, the full protection and security provisions, arbitrary and discriminatory measures, and expropriation clauses of two bilateral investment treaties.
Mr. Peterson then notes the particularly large claim for moral damages that is being made, namely for USD 60 million for the six years that the foreign investor was forced to spend in a "hard labor" Belarus prison camp, i.e. USD 10 million for each year of the foreign investor's life in prison.
While Mr. Peterson notes that moral damages are "rarely awarded" in investment treaty arbitrations, he cites the investor's comment that it is "very difficult to imagine a stronger case for moral damages than this one." In the notice, the foreign investor contends that the treatment for which moral damages were awarded in the much-discussed ICSID case Desert Line v Yemen "pales in comparison" to the alleged treatment of Mr. Mykhailenko at the hands of Belarus, including very severe physical and psychological abuse.
Mr. Peterson then cites the recent Al-Kharafi v Libya award, where USD 30 million of moral damages were recently awarded for reputational harm to a Kuwaiti corporate claimant, making it the largest to date, before citing the investor's argument that the dreadful record on human rights of Belarus should have an impact on the determination of moral damages.  He also cites a 2009 case in the United States, where the US government was ordered to pay compensation of USD 100 million for wrongful imprisonment.
His article then reviews the similarities and divergences in human rights and investment disputes, noting the assertion on behalf of the foreign investor that he was "luckily" also protected by a bilateral investment treaty, since "Belarus is the sole member of Europe which is not a party to the European Convention on Human Rights."
He also notes the measures that the foreign investor's counsel have indicated that they intend to take against Belarus should it not be willing to comply with an eventual award, which include the confiscation of Belarus' airplanes. The foreign investor, for his part, has offered to provide a portion of any amount he is awarded in damages to human rights groups operating in Belarus.
"We greatly look forward to launching this arbitration against the rogue State Belarus, which seriously harmed our clients' rights as a foreign investor," says Dugué & Kirtley partner Mr. Kirtley. "Belarus has the least independent judicial system in Europe, has no rule of law, is known for its massive human rights abuses, and it expropriated our clients' significant foreign investments in Belarus with no compensation at all. The foreign investor's life was also destroyed on no rational basis by Belarus due to his wrongful imprisonment for six years in a hard labor camp. We will win this case."
Mr. Peterson's article may be accessed at: https://www.iareporter.com/articles/20131113 (subscription required)