Parties have a variety of options when seeking attorneys to represent them in international arbitrations, including finding arbitration lawyers by word of mouth, finding them via Google, or finding them through legal directories.
Unlike before state courts, it is typically unnecessary to use lawyers located at the place of arbitration. Most national arbitration laws allow lawyers from any jurisdiction to serve as legal representatives in international arbitration. International arbitration primarily takes place via correspondence, except for during a relatively brief final hearing, making the physical location of international arbitration lawyers of little or no importance.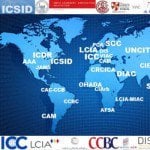 One good option for parties seeking leading international arbitration legal representation at a reasonable cost is the international arbitration boutique Aceris Law LLC, which has an excellent track record in the field of international arbitration and has successfully resolved disputes for clients throughout the world in numerous arbitrations.
International arbitration lawyers can also be found in numerous legal directories, however. While legal directories and rankings are far from a precise science, the primary legal directories that aim to assist parties in finding international arbitration law firms and lawyers may be found below, in alphabetical order.
Interns and junior lawyers seeking to enter the field of international arbitration may also wish to apply to the firms listed in the directories below.
---
Legal Directories for International Arbitration Lawyers
---
A-List

The A-List , also available in Chinese, is an annual ranking published by China Business Law Journal, which focuses on China-related legal matters. The A-List recognizes and highlights the top law firms for their expertise and achievements in the Chinese legal market. Chinese arbitration lawyers may be located via this directory.
---
Asialaw
Asialaw, owned by a company based in London, is a legal directory featuring a significant analysis of Asia's regional and domestic firms and lawyers from the region. In addition to the Asialaw rankings guide, Asialaw publishes awards shortlists and winners recognizing the best firms in Asia. While it does not have a section dedicated to international arbitration, firms practising international arbitration in the region may be located via its directory in the dispute resolution category.
---
Best Law Firms

US News' "Best Law Firms" ranking is an annual publication that assesses and recognizes law firms in the United States for their professional excellence and performance in various practice areas. It includes a national ranking, a law firm of the year ranking as well as a regional ranking. The evaluation process for the "Best Law Firms" ranking involves collecting feedback from clients, conducting peer reviews, and assessing various factors such as expertise, responsiveness, integrity, and reputation. The rankings are, amongst others, organized by practice area and include a section on international arbitration.
---
Best Lawyers

Best Lawyers is an American-based legal directory and ranking publication that has been providing information on lawyers and law firms since 1981. Like its European counterparts, it provides information about international arbitration lawyers and practices globally. The selection process of Best Lawyers is primarily based on peer nominations and evaluations. Best Lawyers focuses on individual lawyer recognition and rankings, distinguishing it from other directories that may primarily rank law firms.
---
Chambers and Partners

Based in London, Chambers and Partners is a well-known publisher of legal directories and rankings. It was founded in 1989. With a focus on large corporate firms, Chambers and Partners produces several directories that provide coverage of law firms and individual lawyers involved in international arbitration across different jurisdictions. The flagship publication of Chambers and Partners is the Chambers UK Guide, which focuses on the legal market in the United Kingdom. Additionally, it publishes separate guides for other regions, including Chambers USA, Chambers Europe, Chambers Asia-Pacific, and Chambers Global. Many international arbitration law firms and attorneys can be found via its website.
---
GAR 100

The Global Arbitration Review (GAR), launched in 2006 and published by Law Business Research Limited, which also publishes Who's Who Legal, is a news platform focused solely on international arbitration. GAR also publishes a regular magazine that features in-depth articles, interviews, and commentary from prominent figures in the arbitration community. In addition, GAR publishes several rankings and guides, such as the GAR 100 and the GAR 30, which recognize arbitration firms and practitioners globally.
---
HG

HG, launched in 1995 in the United States, provides a large directory of lawyers, law firms and legal service providers from around the world. Users can search for attorneys by practice area, jurisdiction, and other criteria to find legal representation. The directory covers a wide range of legal areas, including international arbitration.
---
ICCA Membership Directory

The ICCA Membership Directory is a large listing of individuals and organizations that are members of the International Council for Commercial Arbitration (ICCA), which is a global organization that focuses on promoting and developing international arbitration as an effective means of dispute resolution. It includes numerous arbitration practitioners, scholars, institutions, and professionals involved in the field of international arbitration.
---
Jus Mundi

Jus Mundi, based in Paris, France, is a rapidly growing online platform founded in 2018 that provides access to a large collection of international law and arbitration materials. It is designed to assist legal professionals, academics, and researchers in finding and analyzing international law cases, treaties, arbitral awards, and other legal documents. It also features a directory of arbitration lawyers named Jus Connect, and the platform occasionally publishes rankings of law firms and practitioners as well.
---
Latin Lawyer

Latin Lawyer is a prominent legal publication and online platform that focuses on legal developments and news in Latin America. It is also owned by Law Business Research Limited, which publishes Who's Who Legal. The website publishes directories and rankings of law firms and lawyers in Latin America. These directories offer detailed information about law firms, including their areas of expertise, notable cases, and contact details. Many lawyers in Latin America focusing on international arbitration may be found.
---
Lawyers Global

The Lawyers Global, founded in 2017 in Lisbon, Portugal, is another international legal directory and network. The Lawyers Global aims to connect clients with legal professionals from various jurisdictions and practice areas around the world. It serves as a platform for law firms and lawyers to showcase their expertise, experience, and services to potential clients. The website provides a directory of law firms and lawyers, allowing users to search for legal professionals based on location and practice area, including arbitration.
---
Leaders League (Décideurs)

Leaders League (known in French as Décideurs), is a media and rating agency based in Paris, France. Like its rivals, it provides information and analysis on arbitration lawyers and law firms. The Leaders League International Arbitration Ranking includes leading law firms practising in France, Spain, Germany, China, the United States, the United Kingdom, Hong Kong, Singapore, Switzerland, and other jurisdictions.
---
Legal 500

Based in London, The Legal 500 is a well-known legal directory and ranking company that offers data and research on law firms and attorneys from a wide range of jurisdictions. The United Kingdom, the United States, Europe, the Asia-Pacific, the Middle East, Africa and Latin America are just a few of the many regions that are covered by The Legal 500. Its research process involves collecting feedback from clients, conducting interviews with lawyers, and attempting to analyze the track record and reputation of the firms being reviewed. The Legal 500 publishes annual rankings and guides regarding arbitration and international arbitration for countries including the United States, France, Switzerland, Italy, India, China, Singapore, the United Kingdom, and many other jurisdictions. In addition to rankings, The Legal 500 also provides detailed profiles of law firms and lawyers, outlining their practice areas, notable cases, industry recognition, and client testimonials.
---
Martindale-Hubbell

The oldest legal directory still in existence today is believed to be Martindale-Hubbell. Martindale-Hubbell was first published in 1868, in the United States. While Martindale-Hubbell is primarily focused on lawyers in North America, it may be used to find numerous lawyers focusing on arbitration.
---
Who's Who Legal

Who's Who Legal, based in London, is another prominent international legal directory and publication that identifies and recognizes lawyers and law firms focusing on the field of international arbitration. It was first established in 1996 and has since become a respected resource. The directory also spans multiple jurisdictions and has its own ranking system. Who's Who Legal also publishes special reports and guides on specific topics or regions, offering in-depth analysis and commentary on key legal issues and trends. Who's Who Legal is part of Lexology's "global research hub", a legal research platform providing a wider range of tools for both law firms and non-practitioners, where articles on international arbitration may also be found.