Third party funders, nearly all of which are listed below, agree to finance all or a portion of one party's legal costs. A third party funder typically earns an agreed percentage of any award or a success fee, or a combination of the two, in the event of a successful arbitration. Should the case fail, the funder loses its investment and is not entitled to any payment.
The percentage earned by the third-party funder is typically 20%-50% of the amount awarded in a case, although it can also be a multiple of the amount invested by a third-party funder. Returns on investment of three are generally sought, as in private equity or project finance.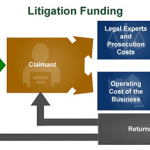 While third party funding raises issues concerning confidentiality, legal privilege, disclosure, conflicts of interests, cost issues and the attorney-client relationship, third party funding plays an important role in many arbitrations today.
Third party funding arguably permits greater access to justice for claimants, permitting meritorious claims to proceed that would not otherwise have been pursued. It also is said to level the playing field so that cases will not be resolved on the basis of unequal economic resources or risk preference. Even for claimants with sufficient funds, third party funding is increasingly used to take the costs of litigation or arbitration off of the company's balance sheet, or to outsource these costs and financial risks. The terms of litigation funding agreements between funders and clients typically set out the agreed conduct of each party, the payoffs to the funder, the circumstances and conditions in which the funder can exit the case, and the reporting and updating requirements of the funder, lawyers and client.
Factors taken into consideration by funders include (1) the value and complexity of a claim, (2) the amount of funding needed, (3) the likelihood of success of the claim, (4) whether other parties have an interest in the claim, (5) the jurisdiction in which the arbitration takes place, (6) the arbitral institution that administrates a case, and (6) the ease of enforcement of the arbitral award to be rendered.
Third party funding is not a cure-all for litigants. Third party funding can be very difficult to obtain. The French third party funder Alter Litigation estimates that only one out of every twenty-five cases where funding is requested actually receives it. Third party funders will rarely fund cases where the amount in dispute is less than USD 20 million, they will only fund cases against Respondents with assets that an arbitration award can be enforced against, and it can take a year or more to set up a final and binding funding agreement following a rigorous due diligence procedure by third party funders and their insurers.
Many specialized third party funders and even third party funding brokers such as the UK-based The Judge exist today.
Arbitration law firms such as Aceris Law will also assist clients in need of third-party funding to obtain it, generally at no cost.
You will find a list of the primary third party funders for international arbitration below.
---
Leading Third-Party Funders And Third-Party Funding Brokers.
---
---
---
---
---
---
---
---
---
---
---
---
---
---
---
---
---
---
---
---
---
---
---
---
---
---
---
---
---
---
---
---
---
---
---
---
---
---
---
---
---
---
---
---