The ICC is often referred to as the gold standard of international arbitration, and it has acquired a reputation as being more expensive than other international arbitration institutions. This reputation is in fact undeserved, as it is not ICC arbitration itself that is expensive, but the costs borne by the parties to present their case.
Records show that the administrative expenses of the ICC account for only 2% of the total costs of an ICC international arbitration, i.e., they account for only 1/50th of the cost of an international arbitration that is being administered by the ICC.
ICC arbitrators have also been blamed for being excessively expensive, but the records show that arbitrators' fees and expenses in fact count for only 16% of the costs of an ICC international arbitration.
So where, in fact, does a client's money go when an ICC international arbitration is paid for?
The answer is that 82% of the costs of a given ICC international arbitration are for the fees that parties pay to present their case.  Of these party costs, surveys such as the CIArb Survey  show that the vast majority of  such party costs (approximately 74%) are due to the significant legal fees that are paid to international arbitration legal counsel.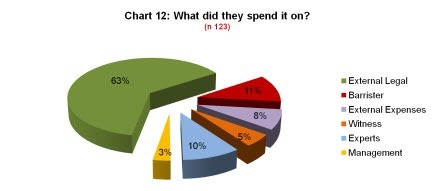 This does not mean that international arbitration lawyers are wholly to blame for the spiraling costs of international arbitration, although it does suggest that they may be partially responsible. In any event, it is clear that the ICC itself is not itself to blame for the perceived cost of ICC international arbitrations.
We have prepared a number of tips on how to reduce the cost of international arbitration.