The International Court of Arbitration of the International Chamber of Commerce (ICC) based in Paris announced on 18 January 2017 a record number of arbitration cases in 2016.
It indicated that it had administered 966 new cases in 2016, which is the highest number of cases in this institution's 94-year-old history.[1] In 2015, 17% fewer cases were filed (801).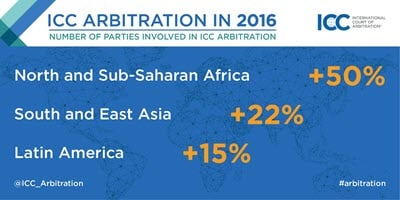 The number of new ICC arbitrations has been slowly but steadily rising for the past two decades. A decade earlier, only 561 new cases were filed, 42% fewer than in 2016.
A significant increase in cases involving Latin American parties, of 15%, was noticeable this year. Statistics show that Brazil climbed to third place in the worldwide ranking of cases with 123 Brazilian parties. Brazil is followed by Mexico, with a total number of 105 parties, ranking among the top five countries according the number of participating parties in the world. Peruvian parties also climbed to number 28.
2016 has also seen a significant rise in the number of parties from Asia and Africa. South and East Asian parties increased by more than 22%, with Korea having a record 82 parties involved in arbitration.
With respect to Africa, North and Sub-Saharan Africa both saw a 50% increase in the number of participating parties, with a noticeable being Nigeria, with 30 parties.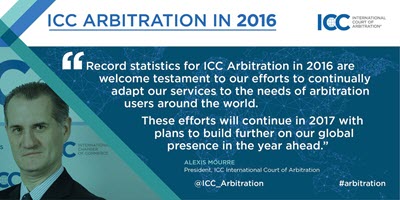 In the official press release, the President of the ICC Court, Alexis Mourre stated: "These initial findings are welcome testament to our efforts to continually adapt our services to the needs of arbitration users around the world. These efforts will continue in 2017 with plans to build further on our global presence in the year ahead."
With the new ICC Rules promoting transparency and efficiency which were adopted in January 2016, 2017 seems likely to be another busy year for the ICC, taking into account its 1,592 currently-pending cases.
The ICC's record number of arbitration cases in 2016 is especially impressive considering the significant number of new arbitral institutions that have been created over the past two decades, creating significantly more competition for the ICC.
[1] http://www.iccwbo.be/icc-reveals-record-number-of-new-arbitration-cases-filed-in-2016/