The 2012 ICC emergency arbitrator rules extend the advantages of arbitration to parties who are in urgent need of interim measures before an arbitral tribunal has been constituted. Before, parties had to seek such measures from State courts, which was not always possible or desired.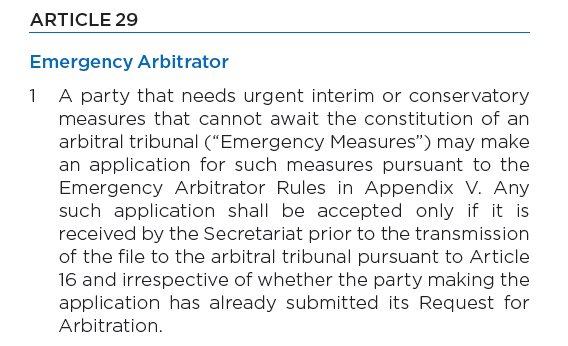 An application for Emergency Measures can be filed prior to the Request for Arbitration under the ICC Rules of Arbitration, but the Request should be filed within 10 days of the application. A special email address[1] is dedicated to this application to ensure the immediate notification of the President of the ICC court of Arbitration, who will decide whether to allow the application in one or two days[2]. In particular, the President needs to verify whether the parties to the Application are signatories or successors to signatories of the relevant arbitration agreement. A parent company who is not a signatory of the agreement is excluded from this procedure. Arbitration agreements based on an investment treaties are also excluded. This strict application is to avoid jurisdictional disputes which would slow down the emergency procedure and defeat its purpose.
The place of this procedure should be the same as the place of arbitration agreed by parties. When this is not apparent, it is the President who fixes the seat. The former also decides the appointment of the given emergency arbitrator. In this proceeding, the nationality of the arbitrator is not an issue. The Emergency Arbitrator should issue his or her order within 15 days of receiving the file.
Because of the inherently urgent nature of this procedure, the arbitrator's jurisdiction may prevail over the parties' previous consensus. In theory, it seems that the cool-down period in arbitration agreements may be ignored, and a contractual clause stipulating that the parties accepted the courts for the purpose of provisional and conservatory measures should not affect the emergency arbitrator's jurisdiction.
[1] emergencyarbitrator@iccwbo.org; ICC guidance on filing an Application: https://iccwbo.org/products-and-services/arbitration-andadr/arbitration/emergency-arbitrator/
[2] Andrea Carlevaris • José Ricardo Feris, ICC International Court of Arbitration Bulletin Vol. 25 No. 1, p.5: "the President makes the decision after verifying that: (i) all parties identified in the Application are signatories or successors to signatories of the relevant arbitration agreement; (ii) the arbitration agreement was concluded after the entry into force of the 2012 Arbitration Rules; (iii) the parties have not opted out of the Emergency Arbitrator Provisions; and (iv) the parties have not agreed on another prearbitral procedure for obtaining conservatory, interim or similar measures."